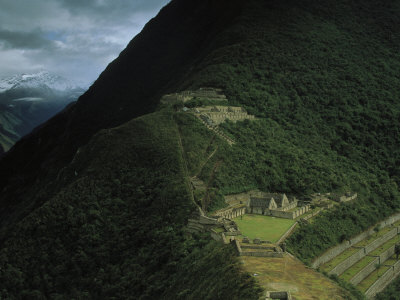 "Come on, you old buzzard," Donovan jibed from the mountain's base, "Can't walk as fast without your cane?"
Zell approached Donovan, shaking his head at his impudence. "There's something to be said for taking one's time."
"Any longer and we would have become artifacts."
Zell dismissed him with a wave of his hand and walked over to the camp, where some of the other members of their team were working on the day's findings.
One of them, a young man named Sergio, was reviewing his findings at a burial chamber.
"Look here," he said, calling Donovan and Zell over, "The bones we found, the woman. She's Inca, but nothing else about the cist is."
"And where's the skull?" wondered Donovan. "Usually that's the last to decay."
Arturo, another member of the Peruvian team, spoke up. "It's possible it's in another cist."
"Maybe," said Zell. "This woman was someone of importance," he noted, gesturing at some of the objects on the table. "Look at the silver pin. An average Inca woman fastened her shawls with copper."
As the team continued reviewing their work, a wind began to pick up, softly at first, then swirled with the force of a gale. The papers on Zell's collapsible desk flew off in all directions and he ran after them trying to gather them. He looked up into the sky wondering why there weren't any threatening clouds overhead. Then he heard the almost silent whump-whump-whump of a muted engine and looked over the treetops to see the lights of an American black ops helicopter coming towards their site. Donovan was running towards it screaming and gesturing. He couldn't hear what he was saying but he doubted that even the most liberal newspapers would print it.
"The woman, the woman!" screamed Sergio, throwing a tarp over the bones.
All that work ruined
, Zell thought. But before he could get as angry as Alan was, he began to wonder what a military helicopter was doing at their site. Not to evict them. Then what?
From the helicopter emerged a silver-haired Army general about sixty years of age. He held his hat under his arm and between his teeth was a large unlit Havana cigar. The lights from the helicopter illuminated his green uniform, its sharpness contrasting with Donovan's disheveled attire. Zell crouched beneath the still whirling blades and approached the newcomer. Donovan was already giving him an earful.
"Do you have any
fucking
idea how much work you've just ruined?" Donovan demanded.
The general kept his ramrod military bearing under the whirling blades, which was fine, as he couldn't have been more than five foot seven. "Am I speaking to Dr. Alan H. Donovan of the Zell Institute?"
"You're damn right you are. Who the hell are you?"
"General James Francis McKenna, at your service, sir."
"Well, General James Francis McKenna, what the hell gives you the right to --"
The general turned towards Zell. "And you must be Dr. Elias Zell."
"I am, General. Now would you mind explaining why you've just ruined a month's worth of work?"
"Sorry for any trouble we may have caused," he said, sliding a finger across his throat so the pilot would cut his engines.
Donovan looked as if he were ready to deck the diminutive general. "What's this all about, General McKenna?"
"It's a matter of national security, Dr. Donovan. I've been cleared to brief both you and Dr. Zell on it."
Donovan's hazel eyes narrowed. "What matter of national security?"
"Well, Dr. Donovan, it's about the pulse."
Donovan and Zell looked at one another quizzically. "What pulse?" Donovan wondered.
"The EM pulse," McKenna explained, almost flabbergasted. "The pulse a week ago, the one that knocked out power worldwide --"
Zell stepped forward, a genial smile on his face. "Is that what happened? All I know is every piece of hardware we've got went haywire a week ago, our supply team is two days overdue and no one's been able to tell us a damn --"
McKenna looked around at the team of diggers who had now gathered around the helicopter. "Is there someplace a little quieter where we can talk?"
"My tent," Zell said gesturing towards it. "That is, if your pilot hasn't blown it into the valley."
* * *
Donovan sat on Zell's cot scratching at a week's growth of black stubble. He shook his head again and turned to Zell who was sitting next to him trying to rekindle his extinguished cigar with his gold Zippo. The general sat in Zell's spare chair bolt upright with his hat in his lap. The air inside the tent was thick with the scent of expensive cigars.
"So let me get this straight," Donovan said. "NASA believes that this EM pulse came from the Moon and they want me to tag along on some tossed together mission and dig up whatever caused it?"
"That's the long and short of it, Dr. Donovan. The government ran a computer check of all qualified American archeologists and your name popped up as candidate number one."
"And why is that?" Donovan wondered.
"Your experience in finding artifacts in hard to reach places," the general noted, "and of course your, shall we say, unorthodox methods that speed up recovery rates."
"This wouldn't have anything to do with NASA screwing my father out of a mission on Apollo, would it?"
The general seemed genuinely surprised. "I was not aware that your father was an astronaut, Dr. Donovan."
"He wasn't, thanks to NASA. They wanted geologists and they got a ton but when it came down right to it, it was a matter of who kissed the most brass."
"Alan," Zell said shooting him a look. "General, now my field isn't electromagnetics, but isn't it possible that this pulse was caused by some kind of -- I don't know -- naturally occurring phenomenon?"
The general tapped some ash off his cigar in a nearby ashtray. "A lot of folks have said that. But they don't know what I'm about to tell you -- a naturally occurring phenomenon doesn't send along landing coordinates."
"Landing coordinates?" A wave of shock overcame Zell's face. "Are you certain?"
"Positive. They're the landing coordinates to the Ocean of Storms. Some of the brightest minds at NASA have speculated that the fissure and the resulting EM pulse which emanated from it was just a way of getting our attention."
"It doesn't make any sense." Donovan rubbed his chin. "If what you're saying is true, that it's coming from the Ocean of Storms, then the crew of Apollo 12 should've picked up this EM energy. They had walked all over the damned --"
"Our best guess is that it was completely buried when Apollo 12 landed back in '69. Which means that whoever buried this object there two million odd years ago timed it to go off on a particular date, specifically December 22, 2012."
Donovan turned to Zell. "Recognize the date?"
"The last date of the Mayan Long Count calendar."
McKenna looked at them. "What're you talking about?"
Donovan shifted slightly in his seat, now somewhat interested. "The Mayans were a very advanced civilization," he explained. "They used zero, an abstract numerical concept, long before the Romans did, for example. They also realized, by tracking the movements of certain celestial bodies, that there were cycles in the cosmos. After completing 13 cycles of 364 years, the calendar would reset itself and a new age would begin."
"A new age," McKenna said, somewhat nonplused.
"A period of great change," Zell said. "The Mayans thought of it as a union between the First Father and the First Mother."
"Well, it would seem that I've come to the right people," McKenna continued, "with this fissure having opened up over the suspected buried object, we believe it would be a relatively easy matter for an experienced archeology team to dig it up and --"
"A relatively easy matter?" Donovan laughed looking at the lantern hanging in the center of Zell's tent.
"Do you have any idea how difficult that work would be, even if it were partly exposed? We would be digging on the Moon, General, one-sixth the gravity of the Earth, in space suits not designed for the careful manipulations of an archeological dig --"
"NASA has promised to provide you with all the equipment and training you need."
"It's been my experience that NASA's promises aren't worth a hell of a lot."
"Alan," Zell said curtly. "General, wouldn't it be better for NASA to send an unmanned probe to the Moon to dig it out? The object on the Moon could be powered by some type of nuclear battery which could be harmful --"
General McKenna waved his cigar. "NASA has a satellite in lunar orbit right now. All the spectral analysis indicates that there is no harmful radiation emanating from the object. Further, it would take several years to design and build such an unmanned robot probe to dig it up. By that time the world could be thrown into a complete panic. Such a panic the President does not take lightly, especially in the current political climate." He sighed. "Besides there's the Chinese to consider."
Donovan folded his arms. "What about the Chinese?"
The general gave a short quick nod. "I've been cleared to give you this information. Spy satellites indicate that the Chinese sent an unmanned probe this week, with the possibility of sending a manned expedition sometime this summer."
"So that's it!" Donovan said slapping the tent post. "You guys just want to beat somebody else to the Moon. This isn't about science at all; it's about sticking the Stars and Stripes in the ground and chalking up another victory for American ingenuity."
The general stood up and looked as if he was prepared to walk out. At the tent flap he turned and looked squarely at Donovan. "I can assure you, Dr. Donovan, that if this mission is successful, it will be due to American ingenuity. However, this mission is of vital importance to science and we are treating it as such. It could very well mean that we're being contacted by beings who came to our Solar System eons before humanity could rub two sticks together. However, the president believes that whatever information that object holds should be shared with all of humanity. The best way of sharing that information would be for the United States to mount a recovery mission. As you are well aware, the People's Republic of China does not share our beliefs regarding the dissemination of information."
"Wave that flag, General," Donovan chuckled. "But you're not convincing me. We'll go there, study whatever caused the pulse and abandon the Moon as we did before when you fellas in the military convinced the government that you needed a little more cash."
The general pursed his lips slightly. "So I take it you are not interested in serving on this mission?"
"Let me put it to you this way, General. Tell NASA to go to hell."
"Goddamn it, Alan!" said Zell.
General McKenna ignored the outbursts. "I have been asked by your president to remind you that your country would be in your debt if you should choose to accept --"
"My country owes my father a debt but he's not here to collect."
The general nodded stiffly. "Very well."
Zell stood up. "I'll walk you out, General."
Donovan poured himself another scotch but didn't drink it, just held it in his hand as he paced back and forth across the center of Zell's tent.
Some nerve, some goddamn nerve, he thought. Let them get some other patsy to go to the Moon. What the hell did they come here and ask me for?