December 25, 2012
Johnson Space Center
Houston, Texas
9:21 a.m.
Some present they've given me
, John Dieckman thought as he stared at the miniature Christmas tree on the file cabinet in his office.
Everyone had heard what the President had said. They were going to the Moon. In six months. But there was only one catch -- no one presently at NASA had ever been involved with a Moon shot.
Dieckman laughed, shaking his head. Despite all the big talk he had spouted at the White House meeting, he knew Phoenix was nowhere near where it needed to be for them to attempt another landing. In truth, NASA was a pale reflection of its former self. Back in the glory days of the late 1960's and early 1970's the Apollo missions were pulling off miracles day in and day out. Six perfect lunar landings and one aborted mission, though thankfully the crew of Apollo 13 managed to return to Earth safely. Other than the infrequent robot probes sent to the outer planets and the Kuiper Belt, no one had been involved in any deep space work since that time. This generation of NASA scientists and engineers seemed to consider the Moon to be a deep space project, especially if it involved sending astronauts. No human being had left the confines of near Earth orbit since Richard Nixon was president.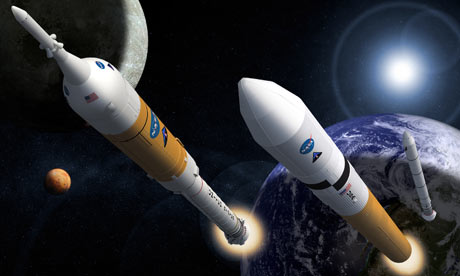 When Phoenix had initially been proposed back in 2004, the plan had been to slowly phase out the reusable but tragically unreliable shuttle fleet in favor of Apollo-style one-shot capsules, with the goal of reaching the Moon by 2020. The money was reallocated from existing NASA programs to the Phoenix project. The only problem was Phoenix was coming in painfully overbudget and woefully behind schedule. At this point they had a working command capsule but no landing module or booster heavy enough to propel them to the Moon. In essence they had built the seats to their little buggy to the stars but had no engine or any way to get out of the thing.
Before the shuttles had been decommissioned two years ago, there had been lots of manned missions, plenty of them. Manned missions to launch or repair communications and spy satellites. Manned missions to adjust orbiting telescopes. Manned missions to Alpha, the aging International Space Station, which was once considered a stepping stone to deep space exploration -- a return to the Moon, a manned mission to Mars. Dreams of another generation, funded by a less pragmatic America.
But in the last two years there had been only three manned missions, each to test the fledgling Phoenix program in low Earth orbit. On two of the missions, the first and the third, the capsule had performed admirably. The second flight almost didn't count as a mission. Fifteen minutes after achieving orbit, one of the capsule's retro-rockets began misfiring and the mission had to be aborted. Only luck prevented the crew from being killed. A congressional investigation was held. It took them another six months to get the clearance -- and the money -- to fly again.
The joke around NASA these days is that if not for military spy satellites, they would have less of a budget than the Parks Service -- any one Parks Service in the country, that is. Everyone knew the excuses given by every skinflint legislator and administration since Apollo who had diminished their budget -- what's the benefit of going into space? What does it get us? Where's the bottom line profit? And then there were the accidents over the years that helped cement those concerns. Apollo 1. Challenger. Columbia. All the lost probes. NASA can't get anything right with the money they have, the politicians bark, why should we give them any more? Never mind the fact that one can't build a better mouse trap without initial capital. From the political point of view it was all no profit, no results, no funds.
Which left NASA officials with one fundamental problem: how to get to the Moon in a six month time-frame with the pittance they'd been allotted.
Oh the President promised more money sure
, Dieckman thought as he slumped in his chair,
but how much of that's actually going to get to us when the military's been clamoring for more funds to not only fight the Terrorism Wars but also this new nonsense with the Chinese fleet conducting military exercises within shooting distance of Taiwan?
Deke scratched out some rough figures for the mission on a legal pad and laughed.
There's no way they're going to give us this.
But first thing's first. They needed to figure out how to get to the Moon in six months. Many of the younger engineers and designers with no living memory of Apollo were intimidated by the idea of sending men across the translunar expanse. A number of wild ideas had already come across Deke's desk. The wildest of all was the one which involved building a giant orbiting magnet to yank the object out of the Moon. More practical ones involved unmanned landers with ground computer guided robots that could dig the object out and analyze it there. But Deke knew that having people on the Moon was the best way of excavating the object. That was the only way to insure getting to the Moon in the time period the President had allotted. Anything too radical would not only make them lose their launch window but would also create more panic in the streets once the source of the signal broke on the news.
Deke clicked his pen absentmindedly as he looked out the windows behind his desk.
Yeah it could work -- using Apollo as a guide.
With Phoenix 3 NASA had already shown that the capsules were capable of docking with another ship -- in that case the International Space Station. The plan had been to continue to aid the Europeans and the Russians in supplying the station for the next couple of years while Phoenix's lander got off the drawing board. Now they would need to move it from the research and development phase to launch capability in just six months.
But even so it wouldn't need years of designing and engineering. The capsule only needs to be reconfigured for the new mission using Apollo's design specs as an initial blueprint. We might even be able to do it on our budget -- provided we freeze all projects currently in development. And we could practically guarantee the President that it would work. If only we had a few guys left from Apollo to help us with the modifications of the original design.

Deke stood up and stretched, jerking his tie down and his top collar button open in one motion. He glanced over at the models on his desk of the old Apollo command and lunar modules.


We'd need to send a bigger team, not just three men. That wouldn't be a problem with the capsule -- modern computers take up a hell of a lot less space than what went into Apollo. We could put more guys into it easy. But we would have to build a bigger lander. Actually the lander might have to be pretty huge, especially if the President wants us to bring the object or pieces of it back for analysis. A landing crew of at least three, maybe four. And that would mean a much bigger booster. The weight's the issue, those old Apollo vets were always worried about weight.

Wait a minute. Isn't old Cal Walker still alive?
Deke remembered seeing him at the space center recently, some party or something.
Christ he's got to be pretty old by now -- eighty if not eighty-five. But the old bastard was still sharp as a tack, rattling off all the reasons why the lunar module had to be so light, how they had to get rid of the seats in the original design, shrink the windows, etc.
I bet old Cal would love to sink his teeth into this
, he thought with a grin,
provided he still has any.
Deke picked up the phone and punched in his assistant's extension. "Mattie, can you come in here for a minute?"
A second later a knock on the door was followed by the entrance of a tall leggy blond with a legal pad. Mattie Kendricks was the brightest assistant anyone could ask for, organized, intelligent, disciplined, in love with NASA and space exploration. And to top it all off she was drop dead gorgeous. Dieckman sighed.
Think of your loving wife at home.

"Yes, Mr. Dieckman?"
"Has the astronaut office come back with a list of teams for prime and back up crews for the mission?"
She handed an envelope labeled Top Secret across his desk. "It arrived just as you called."
"Good good," he said feeling the weight of the packet. "Seems they've given me enough options with the few astronauts we have."
"It sure feels heavy."
"Mattie, I want you to get Cal Walker on the phone. He was one of Von Braun's assistants while they were working on Apollo. His number should still be in our files. I think he's in New York now doing some consulting for some big biotech firm."
"I've got his number right here," she said handing him a small sheet of notepaper. "The company's called Technical Genetics, Incorporated. I thought you might want to give him a call."
He grinned at the number. "Always one step ahead of me, aren't you?"
She smiled and shrugged as she began to leave the office. "It's a gift."
"Oh and Mattie --"
"Yes?"
"Have the people down in the computer lab run a search for American
archeologists. Have them cross reference the names for experience and age. I don't want anyone younger than thirty or older than fifty. And then narrow down the candidates by marital status. I don't want any married candidates."
"You're not planning to send archeologists to the Moon?"
"I'm not sure. It might be easier to train someone to be an astronaut than it is to train them to be an archeologist." He glanced at his Apollo models. "And what we'll need are experienced archeologists. God only knows what we'll find up there."
"I'll get right on it."
Deke winced. "Sorry to have to call you in here on Christmas Day and all."
"Not a problem," she said with her honest smile warming her face. "The Moon definitely outweighs mistletoe."
To be continued...